A special Day like no other
The threshold to a new and wonderful stage of your life
First of all, let me congratulate you on your engagement – this is truly wonderful news. It is not hard to imagine how your head must be crowded with a million ideas and things that need sorting out! We apply a generous helping of sensitivity and passion to dealing with your concerns and desires at times like this.
LOOVE Weddings creates nuptials that inspire the senses and emotions. Wherever your imagination takes you, we invest creativity, experience and, yes, magic in making it all possible.
We supply all the services required for organising and fulfilling one of the most beautiful and most memorable moments of your life. Thanks to our contacts with the best local suppliers – ranging from special caterers and exquisite florists to the most exceptional musicians and others – we ensure that the whole process is worry-free and smooth-running, leaving you to relax and enjoy your wedding. So let's get started!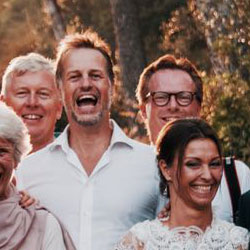 Sandra helped us design our wedding with amazing creativity and allowed us to truly enjoy the wonderful day to the fullest. Sandra was so nice to work with, always super positive and very enthusiastic. She will go above and beyond to design the wedding that you want and clearly has the wedding couple's best interest in mind. Sandra smiles all the challenges away, is down to earth, fun to be with, has excellent style and great ideas as to decorate the different venues in any way you want and fitted to any theme you like and inspires as how to put light into play and to throw those position as a wedding planner and is not afraid to put in the hours to make it all work. Thank you, Sandra, for being a part of creating that perfect memory for life.